Are you an NHCA member? Check out the latest issue of our newsletter, Spectrum
Posted: November 3, 2021
Be on the lookout for your new issue of Spectrum, coming soon. This issue includes a fascinating article on "What's all the Fuss About Kurtosis?", a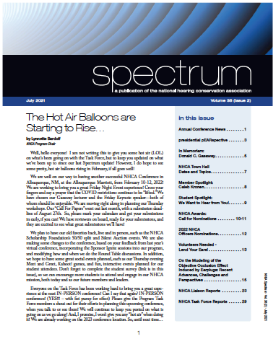 touching tribute to Dr. Michael F. Seidemann, and so much more. If you're not yet a member, consider the demonstrated value NHCA brings to you, personally and professionally. To learn more and join, click here.
Sound Postcard

Posted: November 3, 2021

Time for another trip out of this world. Ever wonder what sounds are like on Mars? Take a listen to recordings captured by microphones on the Mars Perseverance rover. And for more fun, make your own recordings and hear how your voice and other everyday sounds would be transformed if listening on Mars. click here.

 

October is Protect Your Hearing Month

Posted: October 6, 2021

 To help teenagers learn more about noise-induced hearing loss, how to protect their hearing, and overcome the stigma of using hearing protection, the CDC has developed a series of new resources for teens, including videos, social media graphics, posters, and additional resources. To check out the new information and share with your networks, click here.


Source: cdc.gov

Find Your Quiet Place Challenge

Posted: October 6, 2021

NHCA is excited to partner with SoundPrint, the hearing health app, to promote their 2021 Find Your Quiet Place Challenge. Your contributions will enable SoundPrint to advocate for safe noise levels, help you and your community find quieter places, and protect the public's hearing health. The more sound measurements submitted on the SoundPrint app, the greater the advocacy for safe noise levels! It's fun, easy, and prizes will be awarded. To learn more, click here.

Ototoxicity Management Event

Posted: October 6, 2021

The American Speech-Language-Hearing Association (ASHA) is co-hosting an Open House showcasing panelists from the International Ototoxicity Management Group, including prominent NHCA members Gayla Poling and Thais Morata. Topics include: risks, outcomes, and clinical management of hearing loss due to ototoxic exposures across the lifespan. The event will be held Tuesday, October 19, 2021. For more information and to register, click here.
<< first < Prev 21

22

23 24 25 26 27 28 29 30 Next > last >>


Page 22 of 48