NHCASF Seeking Volunteers
Posted: February 3, 2021
The National Hearing Conservation Scholarship Foundation (NHCASF) is seeking new officers to replace those completing their three-year term in February 2021.
The mission of the NHCASF is to manage endowments and donations, and award scholarships to graduate students focusing on applied/practical studies in hearing loss prevention/hearing conservation at internationally accredited institutions.
The following 3-year positions are available soon:
Secretary: The Secretary documents minutes of meetings and distributes minutes to the Board for input, corrections, and additions prior to final approval.
Director: Directors provide input on Board matters and may be asked to take on additional duties at the discretion of the President.
Serving on the Foundation Board of Directors is an excellent opportunity to foster students into the world of hearing loss prevention/hearing conservation and also to help promote membership in NHCA.
Any voting NHCA member interested in applying for either of these positions should contact…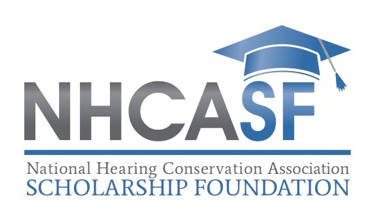 Congratulations 2021 Poetry Contest Winner

Posted: February 3, 2021

We are pleased to congratulate NHCA's President, Theresa Schulz, for contributing the winning poem for NHCA's recent Ear-Cleaning Poetry Contest. Association members were asked to find or create your favorite poems with an explicit focus on sounds and the soundscape. The goal is to elevate our hearing awareness. Please enjoy this original haiku by Theresa Schulz:

Delights the sense of hearing.

 

  (Photo Credit: Freebilly)

International Year of Sound Extended

Posted: February 3, 2021

The International Year of Sound is a global initiative to highlight the importance of sound and related sciences and technologies for all in society. Many activities and events have been extended into 2021. Learn more...

Hearing Research - Current Insights

Posted: February 3, 2021

Because of the ongoing pandemic, the National Museum of Health and Medicine is closed for visitors but offering many online resources for educators and their students, including topic videos, worksheets, and teacher guides. The Science Café program regularly hosts talks that delve into a diverse range of topics in military medicine. A recent episode of the Science Café featured instruction on how the ear functions, how hearing damage can occur when subjected to hazardous noise, and the importance of hearing protection to maintain hearing health, presented by our very own President, Theresa Schulz. Check out the video here and learn more about the National Museum of Health and Medicine here.

(Photo Credit: NMHM)

Sound Postcard

Posted: February 3, 2021

Join National Geographic to learn how a Swedish mathematician skates on thin, black ice both as a thrilling pastime and a beautiful acoustic experience. 

(Photo Credit: Bluejayphoto)
<< first < Prev 31 32

33

34 35 36 37 38 39 40 Next > last >>


Page 33 of 48