World Listening Day - July 18
Posted: July 7, 2021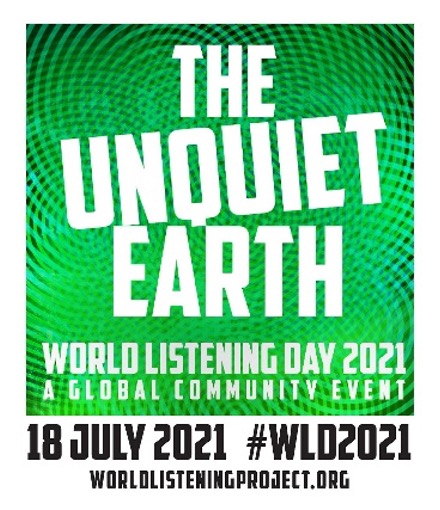 World Listening Day is July 18, 2021. The theme for 2021 "The Unquiet Earth" is an invitation to reflect on and engage with the constant sounds of earth, to remind ourselves that we share this mysterious and awesome planet. For more information, click here.
Call for Papers - 2022 NHCA Annual Conference

Posted: July 7, 2021

NHCA is now accepting abstract submissions for our 2022 Annual Conference, to be held in Albuquerque, NM, February 10-13, 2022. Don't miss this chance to communicate your research and knowledge with friends and colleagues who share your passion for hearing loss prevention. Proposals for papers, workshops, and posters must be submitted online by August 27, 2021. You will need to submit a description of your presentation as well as speaker biographies and disclosure forms for all presenters and co-presenters. To learn more and submit an application, click here.

Survey of COVID-19 and Hearing Symptoms

Posted: July 7, 2021

Dalhousie University is inviting hearing professionals in Canada and the US to participate in an online survey investigating sudden sensorineural hearing loss and other hearing changes in patients who have had COVID-19. If you would like to participate, please click here to access the short survey.

 

 

(Photo Credit: Maksim Tkachenko)

Student Scholarships Available for 2022

Posted: July 7, 2021

The National Hearing Conservation Association Scholarship Foundation (NHCASF) is pleased to announce the availability of Student Research Awards and Student Conference Awards for 2022. Applications and letters of recommendations are due by Friday, October 15, 2021. For more information on eligibility and award details, and to apply, click here. 

Hearing Research – Current Insights

Posted: July, 7, 2021


Whether you find the San Francisco bridge "hum" soothing, haunting, or downright annoying, you'll enjoy this interesting engineering case study: "The quest to solve the mysterious 'eerie' hum of the Golden Gate Bridge" by Erin McCormick, The Guardian, June 13, 2021.

For those who follow research on "hidden hearing loss," see this rare analysis of histologic evidence and corresponding medical records for individuals with lifetime exposures to noise compared to an age-matched control group.  Researchers found evidence of noise-associated inner ear damage that had not yet affected audiometric thresholds, but had resulted in decreased performance on word-identification tests.  Wu PZ, O'Malley JT, de Gruttola V, Liberman MC (2021). Primary Neural Degeneration in Noise-Exposed Human Cochleas: Correlations with Outer Hair Cell Loss and Word-Discrimination Scores. Journal of Neuroscience; 41(20):4439-4447.

Don't miss a fascinating summary article in the next issue of NHCA's Spectrum publication: Carillo et al. (2021 in press). "On the modeling of the objective occlusion effect induced by earplugs: recent advances, challenges and perspectives." See Spectrum, Vol. 38 (2). The Spectrum is a complimentary benefit of NHCA membership. If you are not yet a member, please

click here

for more information on who we are, what we do and how to join.
<< first < Prev 21 22 23 24 25 26

27

28 29 30 Next > last >>


Page 27 of 48