Spectrum Newsletter
Latest Spectrum Highlight
Enjoy the new layout, colors and more great content!

New Signals in Noise section – technical article where NHCA experts separate the research from the noise: Peeling the Speech Banana

New Tone Bursts section – a short burst of knowledge from our NHCA experts: Remote and Hybrid Workers in the White-Collar Sector: New Data Highlights the Modern Workplace's Toll on Hearing

News on the 2023 in-person Conference in Jacksonville, Florida!

Presidential pEARspective by President Gayla Poling

New Executive Director Ashley Montoya

NHCA Narratives featuring Jim Schultz and Frank Wartinger

And more!
The Spectrum is the publication of the National Hearing Conservation Association and access to it is a member benefit. Non-members may view a sample issue.
Members, view the latest Spectrum and copies of past editions by clicking the blue box below: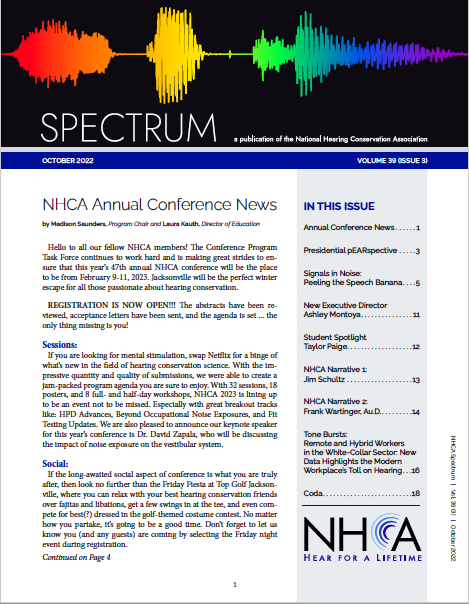 Not a member? Click here to join!